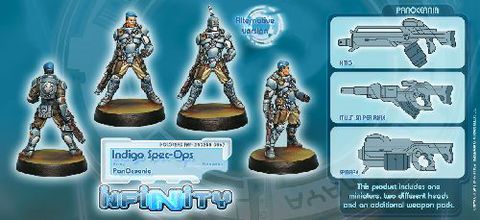 | | |
| --- | --- |
| Name | Indigo Spec-Ops |
| Artikelnummer | INF280258 |
| EAN / ISBN | |
| Mehrwertsteuersatz | 16% |
| Sprache | deutsch |
| Erscheinungstermin | September 2012 |
| Erstverkaufstag | |
September 2012 will be Spec-Ops month. But wait, what is a Spec-Ops? The Spec-Ops are the elite covert action operatives in the Infinity universe, experts in several military disciplines. Each one will be released in a single blister with two differents heads and also a set of different weapons, so the player can customize them.
The Spec-Ops are a new kind of troop in Infinity, unique in their class and who directly benefit from the Infinity Campaign System rules. All Infinity factions possess their own Spec-Ops trooper, and thanks to the Infinity Campaign System rules, each of them as different as the player who is using them. September 2012 you will have the highly professional PanOceanian Indigo Spec-Ops, the swifter Ariadnan Intel Spec-Ops, the ghostly Yu Jing Gu? F?ng (Ghost Wind) Spec-Ops, the lethal Haqqislam Husam (Sword) Spec-Ops, the versatile Nomads Vortex Spec-Ops and the fierce Morat Treitak Spec-Ops. As troopers specially designed for the Infinity Campaign System, they will have not a defined troop profile, and they are also the perfect proxies to be used in Infinity Tournaments. Take your Spec-Ops into battle and experience the upcoming Infinity Campaign System!
Kunden, die diesen Artikel gekauft haben, kauften auch folgendes: