100% Mayhem Gear Expansion – Riot Quest (mixed)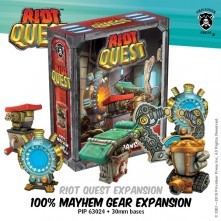 | | |
| --- | --- |
| Name | 100% Mayhem Gear Expansion – Riot Quest (mixed) |
| Artikelnummer | PIP63024 |
| EAN / ISBN | 875582025679 |
| Mehrwertsteuersatz | 19% |
| Sprache | englisch |
| Erscheinungstermin | 27.03.2020 |
| Erstverkaufstag | 27.03.2020 |
Contains:
Hypervelocity Turret model
Gobbler model
Surgery Table model
Mini-Wormholes (x2 models)
Decoy Gate model
5 Riot Gear cards
5 Gear Stat cards
Rules Insert
Looking to add a little more boom to your booty brawls? Or maybe you just want to want to skip through time and space as you rack up fat stacks of cash on your next loot-filled dungeon raid. The 100% Mayhem Gear Expansion is just what Doctor Stygius ordered! Take your questing to the next bombastic level by adding six all-new Gear models to your games along with 10 new Gear cards that you can slap on your crew to give them the fighting edge they need!
Kunden, die diesen Artikel gekauft haben, kauften auch folgendes: